Am I the only one who thinks I need to purchase every product I see a commercial or infomercial for? Man, they really know what they're doing with their marketing that's for sure. I live my life totally fine, completely oblivious of a particular product. And then I see a commercial for it… and my whole world changes. I need that product NOW. I begin to wonder how I ever survived up until that point without the use of that product in my life.

Whether you are a sucker like me, or you think most "As Seen on TV Products" are kind of a joke, one thing is for certain. There are definitely at least a handful of As Seen on TV products that really are quite useful. Really when it comes down to it, all I can say is this: don't knock it till you try it.
Here are 5 As Seen on TV products that people find useful:
1. ShamWow
Most of us, when we first saw the commercials for the ShamWow, probably kind of made fun of them. I mean, really, I'll just use paper towels, thank you very much. But then we saw them hanging out in the grocery store checkout lane and we picked them up. And once we got them home, we realized that these cloths really are super absorbent, and it's nice to have a product like this that we can wash and use over and over again.
2. Insanity Workout
Again, most of us have probably made fun of these commercials. I mean, sometimes it seems like every other commercial is advertising for some sort of workout video or in-home workout equipment. But then we started hearing the reviews. And for people who have used the Insanity workout program (and a few others that are similar to it), they can all agree on one thing: it produces great results!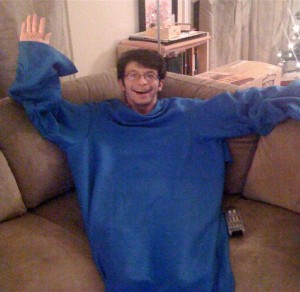 3. Snuggie
Every single one of us has made fun of their commercials. When I was forced to continually see that woman throwing her blanket off in frustration when she couldn't answer the phone, I swore I would never own one of these items just on pure principle of how much I hated the commercials.
Then I came across one in the store. And as I really started to think about it, I began to realize that this could actually be a pretty useful product! Having those sleeves in the blanket as you try to read, use the remote control, or talk on the phone, really could be pretty nice. So, I will admit it, I broke down and purchased one.
Even though we've all made fun of snuggies' commercials, when you really start looking into it, at this point most people you know probably actually own one of these products. And we've all enjoyed not having to throw off our blanket in frustration when the phone rings.
4. Neck Pillow
We've all seen these on commercials, in gas stations, and in the airport magazine stores. The neck pillow. Anyone who has ever been on a long airplane ride, or a road trip, will all agree: these neck pillows are a lifesaver!
5. Slap Chop
Again, this is yet another one of those As Seen on TV products that many of us have made fun of… until we own one. These little handheld choppers really do save quite a bit of time over having to chop those items with a knife.
Nicole is a writer for StarReviews.com, where they review websites, software and services. Check out Star Reviews 2012.
Share and Enjoy