Having a yard sale can be a challenging, yet incredibly rewarding experience. While it's easy to cling to items of our past, getting rid of the clutter can give us a fresh start and a cleaner and more organized house. One of the most difficult parts of putting together a yard sale is deciding what stays and what goes. Some things may just need a replacement part, such as a Kitchenaid food processor, Maglite bulb, or wick for your Zippo lighter. Here are some great tips to get you started on your yard sale and help to make it a success.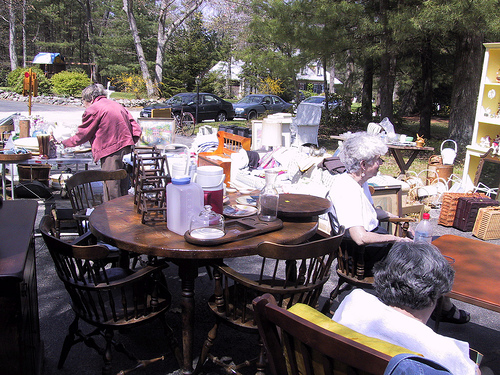 Weeding out the things you don't need
The best approach to finding your yard sale inventory is to go through everything and ask yourself a few questions. Have I used this item in the past few years? Will I use this item in the future? Yes, it might be your wedding china, but if you haven't pulled it out since the wedding to use it at least once a year— is it worth keeping? Go through boxes, shelves, cabinets, attics and garages to find items that haven't been utilized. A few items might be exceptions. Other than coveted items in need of a little repair, most items that aren't used should be placed for sale. If you find yourself clinging, try taking a picture. Many find it easier to let go of something they have a tangible memory of.
Don't price too high (you'll end up giving it away for free anyway)
Once you've gathered items for the big event, it's time to decide on pricing. There is a fine art to pricing for yard sales. Price too high and you'll put off the customers. Refuse to negotiate and you'll end up selling nothing. Once you've cleaned everything out, chances are you won't want to put it back in your newly organized home. Remember that one dollar is more than none and all items that are unsold will end up being donated for free. Do a little research for the going rate of high ticket items on EBay or Craigslist and price accordingly. Also it's helpful to go to a few yard sales to see what prices keep the consumers buying.
Marketing, dates, and Signage
Choosing a weekend that has the potential to be high traffic is a great way to go. If you know people will be out and about for an event, optimize your advertising to snag those who will be driving by. Use the internet to list your yard sale for free, luring buyers by listing your top items, and consider that you can never have enough signage throughout the neighborhood. Target busy streets and display signs that lead yard sale fans straight to you.
Once you've had your sale, you can relax in your newly cleaned home. Take some of the money and put it toward the items you're keeping. Kitchenaid food processor replacement parts, cleaning supplies for your freshly cleaned bookshelves, and cookbooks to go on them are just a few ideas. Repair what you are keeping, and clean things out on a regular basis to keep from having to have another sale soon!
Patrick Whalen is a part of an elite team of writers who have contributed to hundreds of blogs and news sites. Follow him @2patwhalen.
Share and Enjoy