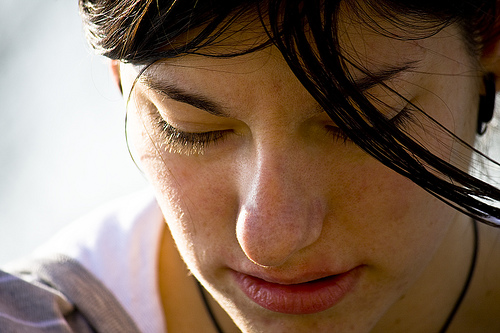 Following what's right for your skin type is the secret to an effective skin care regimen. If you try products that don't suit your skin tone, chances are your skin would look worse, or you might experience some skin health problems- from simple pimples to dreaded skin cancer.
Basically, there are three skin types based on the colour or tone: fair, medium and dark. Before using a skincare regimen, you must identify your skin type first so your skin would be healthy and glowing.
Fair Tone

Caucasians and many Latinas fall in this category. Some Asians such as Koreans, Chinese and Japanese also have fair skin. The fair tone type is usually described as pale, bisque and porcelain.
Fair skin is usually very sensitive to sunlight and too much UV exposure since there is a low amount of melanin on the skin. Melanin is a hormone that's responsible for the dark (brown) pigmentation of the skin that is necessary for body protection against ultraviolet rays and other environmental hazards. But, don't worry – there's something good about having fair skin. Possessing this skin type means you can have a uniform complexion much faster and easier than medium or dark skin tones.
For your basic skin regimen, use a skin cleanser depending on your skin type – normal, dry or oily. It is important to include an SPF 30 sunscreen in your routine to prevent unwanted UV damage. Retinol or creams containing alpha-hydroxyl acid (AHA) are perfect to put on your face and skin before going to bed.
Gentle micro dermabrasion kits are recommended for fair-skinned ladies like you. Since wrinkles and age spots are first seen in fair-skinned people, make sure that you prevent these by putting creams and other topical solutions specified for these skin problems, such as wrinkle-reducing creams and age-defying products.
Medium Tone
The skin tones that belong to the medium category include those that are from light beige to tan shades. Most people who live in the Middle East, Mediterranean countries, Latin nations and East Asia showcase medium skin tone. The medium tone contains more melanin compared to fair tone, which makes it better since you have more natural protection against the harsh ultraviolet rays. The signs of skin aging appear later on them than on fair-skinned people. The problem with medium tone skin is that it tends to produce more oils and show enlarged pores and visible pimples.
The basic skin care regimen that medium toned people need includes a salicylic acid wash, blotting papers to reduce oil, and high SPF sunscreen facial cream and lotion. Prescription hydroquinone creams recommended by your dermatologist can be helpful in solving hyper pigmentation problems.
Dark Tone
Coffee brown skin colours to rich ebony shades are included in the dark tone category. The dark skin tone is common among South Asians, Afro-Caribbeans and African-Americans. Among the three skin tones, the dark tone possesses the greatest production of melanin and thus, the best protection against sun damage. The common problems that dark toned people face, however, include hyper pigmentation and acne scars.
For the basic care for dark skin tone, salicylic acid wash and creams should be included in your daily skin care regimen. These prevent acne and other skin breakouts. Also, never forget to exfoliate at least three times a week to deeply clean your pores and remove ingrown hairs from the skin.
RejuvaDERM offers an extensive range of skin care products, which are available from their skin care store.
Share and Enjoy