Living in an apartment leaves a renter with the difficult task of where to dispose large items. Most apartment complexes will not allow tenants to place anything bigger than a bag of trash in the dumpster. These five tips will help any renter discover how to rid themselves of large personal items.

Donate:
If the item has value, a renter may donate it to a thrift store. Thrift stores gladly take an assortment of different items and will even come and pick donations up. Before donating make sure that the items are not stained or torn. Donations to a thrift store help the community and the thrift store support themselves. Renters may find a thrift store in their area by searching the following websites such as www.thethriftshopper.com.
Sell:
Any large item that may have value to someone else has the possibility of being sold. Place an ad on www.craigslist.org or in the local newspaper. Odds are good that someone will need that sofa or bed that needs to be disposed of. Be honest with buyers about any potential problems with the items being sold. Remember that one person's junk is another person's treasure.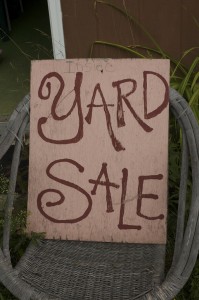 Hire Someone:
Large items that are not able to be sold or donated will need to be disposed of another way. A company like www.1800gotjunk.com will come to a persons residence for a fee and remove and dispose of any type of item. Renters may be able to find an independent company or individual who specializes in removing large items for a fee. Lower the cost of hiring a company by asking neighbors if they need to rid themselves of some possessions and split the costs.
Ask Landlord:
Landlords have certainly dealt with this problem before. Ask them what they suggest for disposal of the items. The possibility exist that they will allow renters to place large items in the dumpster if they are broken down or they know of a good manner of disposal.
Yard Sale:
Have a community wide yard sale with other residents of the apartment. Joining forces with other residents will draw a big crowd to the yard sale. Avid yard sale lovers will delight in finding huge sales. Large items and more will be gladly purchased and hauled away while those participating in the sale make some money. Seek permission from the landlord before having a yard sale to ensure that the sale is allowed on the property.
Justin Clark is freelance blogger and the current editor of the California Apartments Blog where he focuses on green living. Click here to see some of the recommended green apartment communities Justin has reviewed.
Share and Enjoy