I don't know about you, but one of my favorite things about waking up each morning is getting up and putting on my bathrobe and relaxing with a cup of coffee.
These days the house is kind of chilly in the morning. Especially upstairs. So the faster I can get that robe on when I get up the better.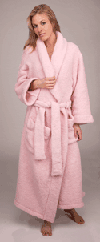 I have a few bath Robes but the one I like best at this time of year is a plush bathrobe very similar to the one pictured on the right. It's made out of Chenille Microfiber and it just seems to soak up the heat from my body and radiate it back to me. The material is really soft too. Exceptionally soft, so it's a pleasure to wear.
My Chenille Microfiber robe is a shortie. I noticed that the microfiber robes at Plush Robes are all long ones. I'd actually be quite happy to have a long one. Perhaps I'll get myself another sometime soon.
If you've been thinking about getting a new bath robe you might want to visit Plush Robes. They have a wide selection of Bathrobes to choose from in a variety of styles and materials.
There are Terry Robes, Chenille Microfiber robes, Kimono style robes, waffle robes, hooded terry robes, Asian silk robes, and even a Leopard Doeskin Microfiber Robe.
One thing that I like about Plush Robes is that when you purchase one of their Bath Robes you have the option to personalize it with a name (15 letters max) or initials. If you were giving a bath robe as a gift being able to personalize it would be a nice added touch. Another reason to Personalized robes might be if you were purchasing robes for a couple or for a family. It would make it easier to tell who is who's when the robes come out of the dryer.
There's another benefit to buying a robe at Plush Robes. If you were buying a robe for someone as a gift and having it sent to their address you could also request that a greeting card be sent with the robe. Plush Robe offers this service free of charge. You can choose between cards for Birthdays, Holidays, Anniversary, Valentine's Day, Weddings, Graduation, Get Well, Mother's Day and Father's Day.
If you decide to buy a robe from Plush Robes you'll be pleased to know that they also offer free shipping. Also, if you order by 4 pm pacific time your order will be shipped out that day. You could have your new robe within 3 business days!
Visit the Plush Robes site for yourself and take a look at their selection of bath robes.
Share and Enjoy