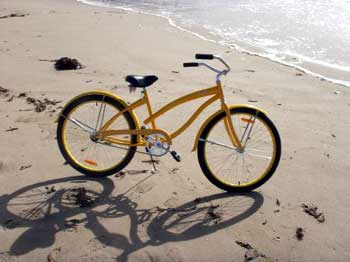 I would absolutely love to have one of these beach bikes. Don't you just love the look of them?
The bikes are just simple one speed bikes but their design makes them great for riding – especially on sandy beaches.
I've actually been a fan of Beach Cruisers for a while now but I've yet to purchase one. However, looking at their 2007 line up of bikes I might just take the plunge and get a new bike.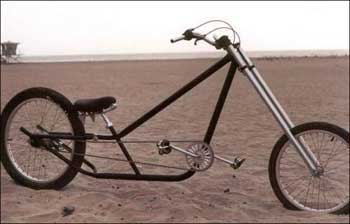 There are so many different styles it's mind boggling.
I love the low rider beach bike that is shown on the 2007 bike line up page. It looks so cool! You can get beach cruiser bikes for women, men, stick to the classic beach cruiser line, or show off your appreciation of design and style by getting one of their chopper cruisers.
If you want a bike for racing these bikes probably aren't for you. They are designed for leisure riding. That's why I think they'd be perfect for one of my favorite types of biking adventures.
You see, here in Toronto we have a fantastic beach area. There's a boardwalk and bike bath that runs along Lake Ontario in the West downtown core of the city. It's a lovely area, and because it's so crowded you can't really race along on a bike.
Since these bikes are designed to be ridden on slightly rough terrain like a sandy beach they'd be perfect because there is a large beach area beside Toronto's board walk too.
The bikes are priced reasonably too. That low rider that I pictured above is only $155 dollars, and the yellow womans beach cruiser that I showed above and linked to is only $95. I'd actually swear that the prices have gone down since I last looked at this website. Even better if they did.
The bikes are shipped 80% assembled so there won't be much work for you to do once your new bike arrives. They ship using FedEx and they do ship worldwide so no matter where you are you could be a proud owner of a beach cruiser.
Share and Enjoy